All 30 of the NBA's teams are carrying some sort of "dead money" on their respective books for the 2020/21 season. Dead money is the guaranteed salary paid or owed to a player who is no longer under contract with the team.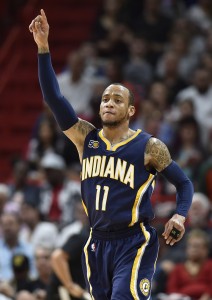 In some cases, teams are carrying cap hits for players whom they released several years ago. That's the case in Indiana, for instance, where the Pacers have a $2,245,400 cap charge for Monta Ellis this season, despite cutting him way back in July of 2017.
In other situations, the dead money is a result of having waived a player more recently. The Pistons, for example, created this season's single largest dead money cap hit when they bought out Blake Griffin, who is still counting for $32,670,565 against Detroit's team salary in '20/21.
Other dead money charges are far more modest. For instance, expired 10-day contracts technically count as dead money, but none of those are worth more than $110,998.
While some teams will add a little more dead money to their caps in the coming weeks when 10-day deals expire or certain players are released, it's safe to assume that nearly all of this season's most significant cuts have already been completed. With that in mind, we're taking a look below at the teams carrying the most dead money for 2020/21.
Carrying a substantial amount of dead money doesn't necessarily indicate that a club has managed its cap poorly. For instance, the Thunder and Knicks, two of the teams near the top of the list below, have the two smallest team salaries in the NBA this season.
Because they haven't had any hard-cap or luxury-tax concerns, Oklahoma City and New York could comfortably afford to waive multiple players with guaranteed salaries in order to make room for new players, without worrying about the associated costs. The Thunder have certainly done that — their $36MM in overall dead money comes from 12 different players.
On the other end of the spectrum, the Warriors and Clippers are among the teams with the least amount of dead money on their books, which makes sense too. Golden State will have the league's highest tax bill, while L.A. has been up against a hard cap for much of the season, so both teams have wisely avoided making any major commitments to players who won't finish the season on the roster.
Here's the full list of 2020/21 dead money by team, as of April 16:
Detroit Pistons: $38,806,272
Memphis Grizzlies: $36,052,708
Oklahoma City Thunder: $35,926,004
Cleveland Cavaliers: $30,396,254
San Antonio Spurs: $24,804,677
New York Knicks: $20,260,505
Sacramento Kings: $9,655,830
Charlotte Hornets: $9,043,478
Los Angeles Lakers: $7,599,241
Toronto Raptors: $6,818,018
Houston Rockets: $6,017,104
Miami Heat: $5,564,670
Milwaukee Bucks: $5,034,894
Portland Trail Blazers: $4,757,775
Orlando Magic: $4,268,128
Washington Wizards: $4,222,815
Indiana Pacers: $3,862,401
Denver Nuggets: $2,000,000
Philadelphia 76ers: $1,642,981
Brooklyn Nets: $1,635,825

Note: This figure doesn't include LaMarcus Aldridge's $554,988 cap hit, since he remains on the roster, for now, after announcing his retirement.


Dallas Mavericks: $1,620,564
Boston Celtics: $1,131,937
New Orleans Pelicans: $1,054,478
Phoenix Suns: $785,285
Utah Jazz: $770,433
Atlanta Hawks: $744,684
Minnesota Timberwolves: $685,340
Golden State Warriors: $666,667
Los Angeles Clippers: $110,998
Chicago Bulls: $97,261
Salary information from Basketball Insiders was used in the creation of this post. Photo courtesy of USA Today Sports Images.