Luke Kennard was a promising young player for the Detroit Pistons until he was dealt last year to the Los Angeles Clippers. Now paid extremely well, Kennard has not played at all for the Clippers in their first two playoff games. Should Pistons fans feel sympathy for him?
Two games into the NBA playoffs, Luke Kennard's new team has won as many games as his old team: 0.
One of the biggest stories so far in the NBA playoffs has been the Los Angeles Clippers, who many thought had a legitimate shot at winning the championship.
However, the Clips came out stumbling out of the starting blocks, losing their first two games, at home, to the Dallas Mavericks.
The Clippers had five more wins then the Mavericks in the regular season, making the two losses at home even more shocking.
One player who can not be blamed for the Clipper catastrophic start to the post-season is former Detroit Piston Luke Kennard. That is because he did not play a single minute in either game.
Kennard is a very well paid benchwarmer. After being traded to Los Angeles by the Detroit Pistons on November 29, the Clippers inked the 6-foot-5 Duke product to a four-year, $64 million contract extension.
The fact the Clippers are not doing well, and a player they are paying $64 million can not get in a game, has been noticed.
Kennard might be paid like a starter but he only started 17 of the 63 games he played for the Clippers. His 19.6 minutes a game average was actually the lowest of his four-year career.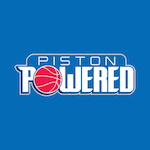 Want your voice heard? Join the PistonPowered team!
For his first three seasons, Kennard was with the Pistons. He was seen as a promising player who also connected with the fan base.
Based on his past history in the Motor City, should Detroit Pistons fans feel bad for Kennard?
Luke Kennard was the No. 12 overall pick by Detroit in the 2017 draft. A deadly three-point shooter, Kennard by his third year was averaging 15.8 points and shooting 40% from three.
Kennard's star then began to dim.
Due to bilateral knee tendinitis, he played just 28 games in 2019-20. Then, Detroit brought in Troy Weaver last summer to run the basketball operations.
Weaver had no stake in Kennard, not having been around when he was drafted. He just saw a guy with bad knees, who after the 2020-21 season would a restricted free agent and expecting to be paid a lot of money. Due to Blake Griffin's contract, salary cap space would not be plentiful in the summer of 2021.
So Weaver decided to ship out Kennard. As part of a massive three-team trade between the Pistons, Clippers and Brooklyn Nets, Kennard ended up in Southern California and a teammate of Kawi Leonard and Paul George.
(The Pistons ended up with the draft pick that turned into Saddiq Bey, so it pretty much worked out for them)
2 good reasons Detroit fans should be sad for Luke Kennard
Unlike, Blake Griffin and Derrick Rose, Kennard did not ask to leave. He was traded in a move to improve the team in GM Troy Weaver's mind.
Kennard was always a model citizen and never badmouthed Detroit. Why wouldn't you root for him to succeed?
2 good reasons Detroit fans could care less about Luke Kennard
Luke got paid, and he is with what is supposed to be one of the top teams in the NBA. The fact he can't crack their lineup is not my problem.
My heart breaks that the poor Clippers and Kawhi and 'Playoff P' are going down in flames (NOT). Kennard looked good for Detroit when they played the Bucks in the playoffs, if he played, he would probably help them, so glad he is not playing.
There are a lot of former Detroit Pistons in the playoffs. It makes one wonder why Detroit has not won a playoff game in 12 years, when they have so many ex-players having key roles on playoff teams.
But Luke Kennard is not one of those playing a key role. Can you handle it?