Throughout the season, Hoops Rumors takes a closer look at players who will be free agents or could become free agents this off-season. We examine if their stock is rising or falling due to performance and other factors. This week, we take a look at players from the Central Division: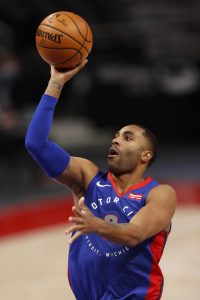 Wayne Ellington, Pistons, 33, SG (Up) – Signed to a one-year, $2.56MM deal in 2020
What has gotten into Ellington? Signed to add some depth at the shooting guard spot, Ellington has emerged as a starter and is on the hottest 3-point roll of his career. He's knocked down at least four long balls and scored at least 16 points in each of the last seven games. Overall, he's averaging a career-best 13.4 PPG in 24.2 MPG while making 53.2% of his 3-point attempts. Obviously, he's not going to sustain this pace but at the least, Ellington has shown he can still help a team with his perimeter shooting.
Andre Drummond, Cavaliers, 27, C (Up) – Signed to a five-year, $127.2MM deal in 2016
Sometimes people tend to dwell on a player's shortcomings and forget about the positives. The Pistons basically gave away Drummond to a division rival last February to clear cap space. Yes, he can't shoot from outside and he's brutal at the foul line but what's so bad about having the best rebounder on the planet on your side? Drummond is averaging a career-high 18.9 PPG with the aid of two young guards breaking down defenses. With the addition of Jarrett Allen, he's probably not in the Cavs' long-term plans. He's not a max player but Drummond is still one of the league's top big men and he'll get a strong multi-year contract despite his flaws.
Tomas Satoransky, Bulls, 29, PG/SG (Down) – Signed to a three-year, $30MM deal in 2019
Chicago has an interesting dilemma with Satoransky following the season if it's unable to move him in a trade. His $10MM salary for next season is 50% guaranteed. The Bulls would have to take a $5MM cap hit to cut him loose but Satoransky's status with the organization has fallen. He was once viewed as its potential solution at point guard. Right now, Satoransky is struggling just to stay in the rotation. If he winds up in the free agent market, he won't be viewed as more than a second-unit option.
Bobby Portis, Bucks, 25, PF (Up) – Signed to a two-year, $7.4MM deal in 2020
Portis has a $3.8MM option on his contract for next season. The way he's playing, he'll certainly decline it and take his chances on the free agent market. Portis has been a solid addition for a title contender, establishing himself as the team's sixth man. He's averaging 10.9 PPG and is second on the team in rebounding (7.7 RPG). His PER ranks third on the team. Portis' offensive production has dipped some in the last two weeks but he still had a 21-point outing against Atlanta on Sunday.