4:04pm: The buyout agreement has been completed and Griffin has been placed on waivers, according to a team press release. He'll become an unrestricted free agent on Sunday evening.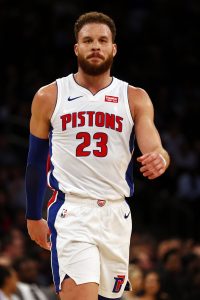 "As we stated from the beginning of our discussions with Blake and his representatives, our goal has been to facilitate a resolution for the future that maximizes the interests of both Blake and our team," GM Troy Weaver said in a statement. "We appreciate all of Blake's efforts on and off the court in Detroit, have great respect for him as a player and a person and we wish him all the best in the future."
"I thank the Pistons organization for working together on an outcome that benefits all involved and I wish the franchise success in the future," Griffin said.
---
11:04am: The Pistons and power forward Blake Griffin have agreed to a contract buyout that will pave the way for him to become an unrestricted free agent, sources tell ESPN's Adrian Wojnarowski. Shams Charania of The Athletic had reported on Thursday that Detroit and Griffin were working toward a buyout.
According to Wojnarowski, most of the NBA's contending teams have interest in Griffin, who figures to make a decision on where he'll sign in the near future after he speaks to his top suitors.
Griffin has been out of the Pistons' lineup since February 15, when he and the team agreed to work toward a solution that would expedite his exit from Detroit. The Pistons were focused on developing their younger players, while the 31-year-old's preference was to join a contending team, so both sides were on board with pursuing a trade or buyout.
Although Griffin has made six All-Star teams and five All-NBA squads over the course of his impressive career, health issues have significantly limited his impact this season, as he has averaged a career-worst 12.3 PPG on 36.5% shooting in 20 games (31.3 MPG).
The former first overall pick also has one of the league's most onerous contracts, including a $36.8MM cap hit in 2020/21, followed by a $38.96MM player option for '21/22. That deal presumably made it impossible for the Pistons to find a reasonable trade, which is why the team and his reps shifted their focus to a buyout.
It will be fascinating to see how much salary Griffin agreed to give up as part of the agreement — most players who are bought out by their teams are on expiring contracts, but it seems safe to assume Griffin didn't simply decline his player option as part of the deal. The Pistons will likely be on the hook for a significant amount of 2021/22 salary, though they'll have the option of stretching next season's cap hit across three seasons.
Griffin will spend two days on waivers before he's officially free to sign with a new team, but as long as the Pistons finalize his release soon, he should have plenty of time to find a new home by the start of the season's second half next Wednesday.
Marc Stein of The New York Times (Twitter link) specifically names the Lakers, Clippers, Nets, Heat, and Warriors as teams that have expressed interest in Griffin, while Woj adds the Trail Blazers to the veteran's list of viable options (Twitter link).
[UPDATE: Nets Considered Frontrunners To Sign Blake Griffin]
Most of those clubs make sense, though a reunion with the Clippers would be a surprise, given how Griffin's initial time with the organization came to an end. The Clippers re-signed Griffin to a five-year, $171MM contract in the summer of 2017 after pitching him on being a long-term centerpiece in L.A., then turned around and traded him to Detroit six months later.
Photo courtesy of USA Today Sports Images.