The Pistons and Jazz are finalizing a trade that will send forward Bojan Bogdanovic to Detroit, sources tell Shams Charania and James L. Edwards III of The Athletic (Twitter links). According to Charania and Edwards, Utah will receive big man Kelly Olynyk and guard Saben Lee in the deal.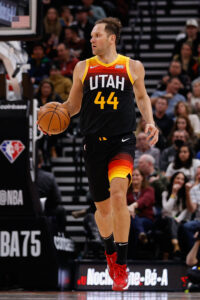 Bogdanovic is set to earn $19.55MM in the final year of his contract after averaging 18.1 points, 4.3 rebounds, and 1.7 assists per game in 69 appearances (30.9 MPG) for the Jazz in 2021/22. A strong frontcourt scorer and shooter, Bogdanovic has made his 39.2% of his career three-point attempts, including 40.3% over the last five seasons.
With the Jazz in the process of tearing down their roster, Bogdanovic was widely viewed as a strong candidate to be moved before the start of the season. On Wednesday, Andy Larsen of The Salt Lake Tribune cited a source close to Bogdanovic who said the forward expected to be traded soon.
Still, while a trade had been anticipated, Bogdanovic's destination comes as a surprise. Teams like the Suns, Lakers, Mavericks, and Knicks had been cited as possible suitors for the 33-year-old, but it will be the retooling Pistons who land him. Bogdanovic's ability to stretch the floor and hit outside shots should help create more room in the paint and play-making opportunities for Detroit's dynamic young guards, Cade Cunningham and Jaden Ivey.
The Pistons will take advantage of their leftover cap room in acquiring Bogdanovic, sending out only Olynyk ($12.8MM) and Lee ($1.75MM) in the deal. The move will also help clear a roster logjam in Detroit — the club had 17 players on fully guaranteed salaries, but will have just 16 after completing the trade for Bogdanovic. Buyout candidate Kemba Walker is expected to be the odd man out.
As for the Jazz, they're trading yet another productive veteran after having already found takers this offseason for Rudy Gobert, Donovan Mitchell, and Royce O'Neale. It appears they won't continue to add to their collection of future draft assets in the Bogdanovic swap, but they'll add a much-needed center in Olynyk to their roster, will take a shot on the 23-year-old Lee, and will create some additional breathing room below the luxury tax line.
As Yossi Gozlan of HoopsHype observes (via Twitter), the trade should move Utah from about $2MM below the luxury tax threshold to $7MM below the tax line. The team also should create a trade exception worth about $6.75MM in the deal.
While they'll reduce this year's team salary, the Jazz will now be on the hook for Olynyk's $3MM partial guarantee in 2023/24. They'd owe the big man that $3MM, instead of his full $12.2MM salary, if they waive him before next year's free agent period. Lee, meanwhile, has a $1.9MM team option for '23/24.
The Jazz will now have 18 players on guaranteed contracts, so they'll have to trade or release three players before opening night to get their roster down to 15.